---
_
A tactile sculptural bottle hand-crafted in a digital dream. The end result of months exploring 3D geometry and patterns by Mitchell.
Something special happens when it sits in the sun…
---
Stretched Resources - Ceramics
_
Stretched Resources is our latest collection that aims to convey the strain humanity has put on the world during the Anthropocene. The ores shown on this design have been carefully picked due to various scientific papers and journals noting them as being the most high in demand or running out quickly, hence why the plate seems to be stretching thin.
---
Stretched Resources - Stools
_
Our new outdoor furniture, spotted in the elements!
Stretched Resources Stools are a part of our latest collection that aims to convey the strain humanity has put on the world during the Anthropocene in our endless hunt to claim all the resources available.
---
Stretched Resources - Rug
---
Hearst España SL.
Avenida Cardenal Herrera Oria 3, Madrid Spain 28034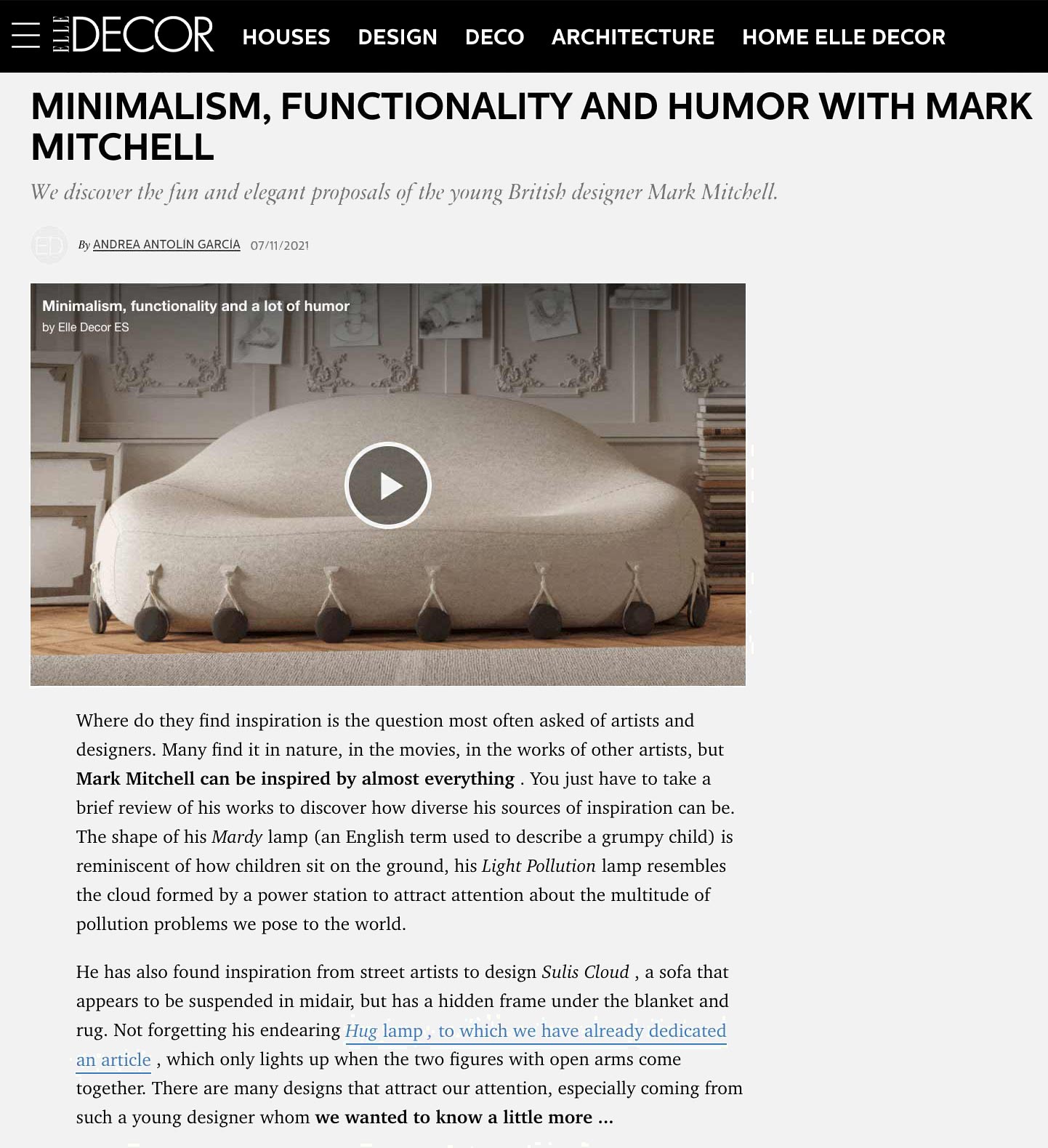 What do you like the most about being a Designer?
"We are very lucky, we are the first to see a product before anyone else. There is a great sense of magic when you consider that your role is to be behind the scenes deciding what the stage should look like, in which billions of people live. I always remember how special that responsibility is when visitors come by our studio, you can see the joy in their eyes when they catch a preview of something that we haven't yet published or released.
I still feel the same joy and responsibility every day that I come to work!
"
Read more ->
---
_
A cloud stirs, a figure emerges. Hyade's eyes are red with despair. She continues to climb the clouds, reaching up to Helios her one true love. Her foot slips, eyes widen, hand reaches - she catches herself just in time.
Tears fall around her, vanishing through the misty clouds to the earth far below. She looks up, in the distance Helios points behind her. Her tears suddenly no longer fall. They gather in a pile atop a cloud, like crystals upon cotton, light spilling into spectrum around. Helios used his last wish to cast her a safety net, wherein now lies a tiara of tears. Sometimes, when the sun shines just right, you might catch a glimpse of that tiara. The physical embodiment of their love.
---
Brunel University London Kingston Lane Uxbridge, Middlesex UB8 3PH

This British day bed design is over 160 years old, and has never been seen... until today
The Morris Daybed was a sketch hidden amongst the notebooks of world famous English textile maker William Morris circa 1855. Discovered in the Birmingham Museum archives in 2020 by Mitchell and his team, the studio felt obligated to bring his furniture dream to life! Exhibited here in Kensington apartment graffitied with flag mural by emerging artist Ipek Akarsu.
Development of this piece is kindly being funded by Brunel University and Santander UK as part of the MadeInBrunel Alumni network.
---
---
_
This latest work by Mitchell brings all the connotations of a traditional candelabra into the home through a modern and audaciously iconic design story.
The forms are guided by a variety of glassware which originally evolved from a singular shape into a whole range in order to make different beverages look and taste better. It is this beauty and ingenuity in form and function that Mitchell presents centrally in the room for viewers to appreciate.
---
_
A Catenary is the elegant natural curve a hanging rope or chain forms under its own weight.
Inspired by 20th century Neofuturism and Gaudi's prototypes, Mitchell explored the geometry for months with the result of this study being a range of decorative wall lamps entirely shaped by gravity.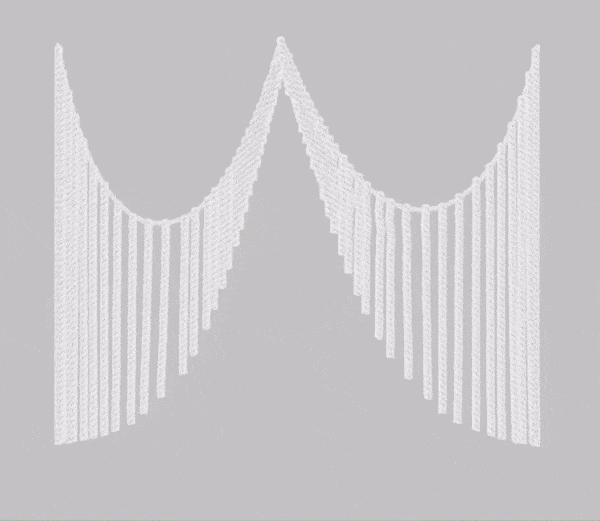 ---
Wacom, 455 NW Irving St, Portland, OR, USA
Mitchell was invited by the folks over
@student.design
and
@wacom
to be their guest designer for March 2021
Checkout the results of phase 1, where Mark designs a water bottle using the Wacom Cintiq to sketch a wide variety of shapes.
---
_
A useful appliance for people who have humidity sensitive possessions such as plants or musical instruments in their apartments. Steamstack acts as both a humidifier and condenser allowing it to emit or remove moisture to better regulate your environment.
---
_
An infographic necklace defined entirely by statistics about about the London Underground. Created for proud Londoners so they can wear the city.
---
_
Made from PVC within a soft and thick bouclé fabric cover, it is the worlds first portable luxury sofa!
Crafted with people who travel and rent apartments all around the world in mind, it can be deflated and packed away in a small postage box and sent to location ahead of arrival.
Small weights, inspired by those seen on the 1784 Montgolfier Brother balloon, hang around the sides ensuring sofa stability when in use.
---
_
Standing strong and stable, the Oil Rig Table acts as a port of call for your items through the brisk gale of life. Helipad conveniently rotates to increase or decrease deck area. Finished in weathered effect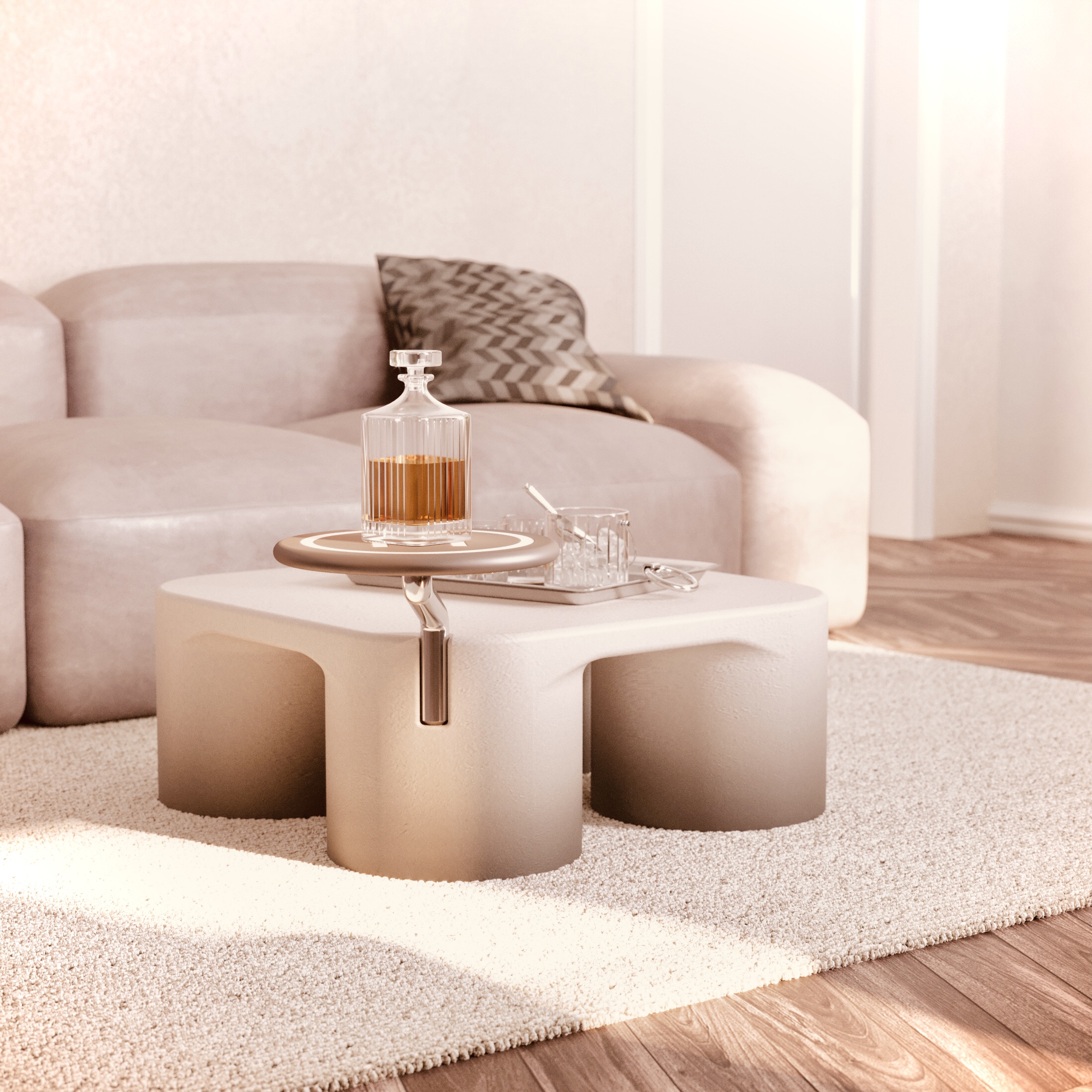 ---
_

2020 was tough, we couldn't spend time with family and friends when we needed them most. Weddings cancelled, businesses closed, jobs lost, loved ones lost, families separated and curfews imposed. I hope 2021 is the year where we can safely hold each other again
The Hug Lamp is illumed by bringing the two sculptural figures together. They glow on contact.
---
_
These totemic floor lights are made by stacking lampshades. When it's time to switch up your interior design, you can disassemble the shades and sell them individually and earn more than you paid for the original lamps...
This is due to the price difference between buying lampshades wholesale or individually.
---
_
Devoti is a mystical worshiper embodying the cult of smartphone ownership and our obsession with battery life.
They present a charging coil as an alter for devices to rest.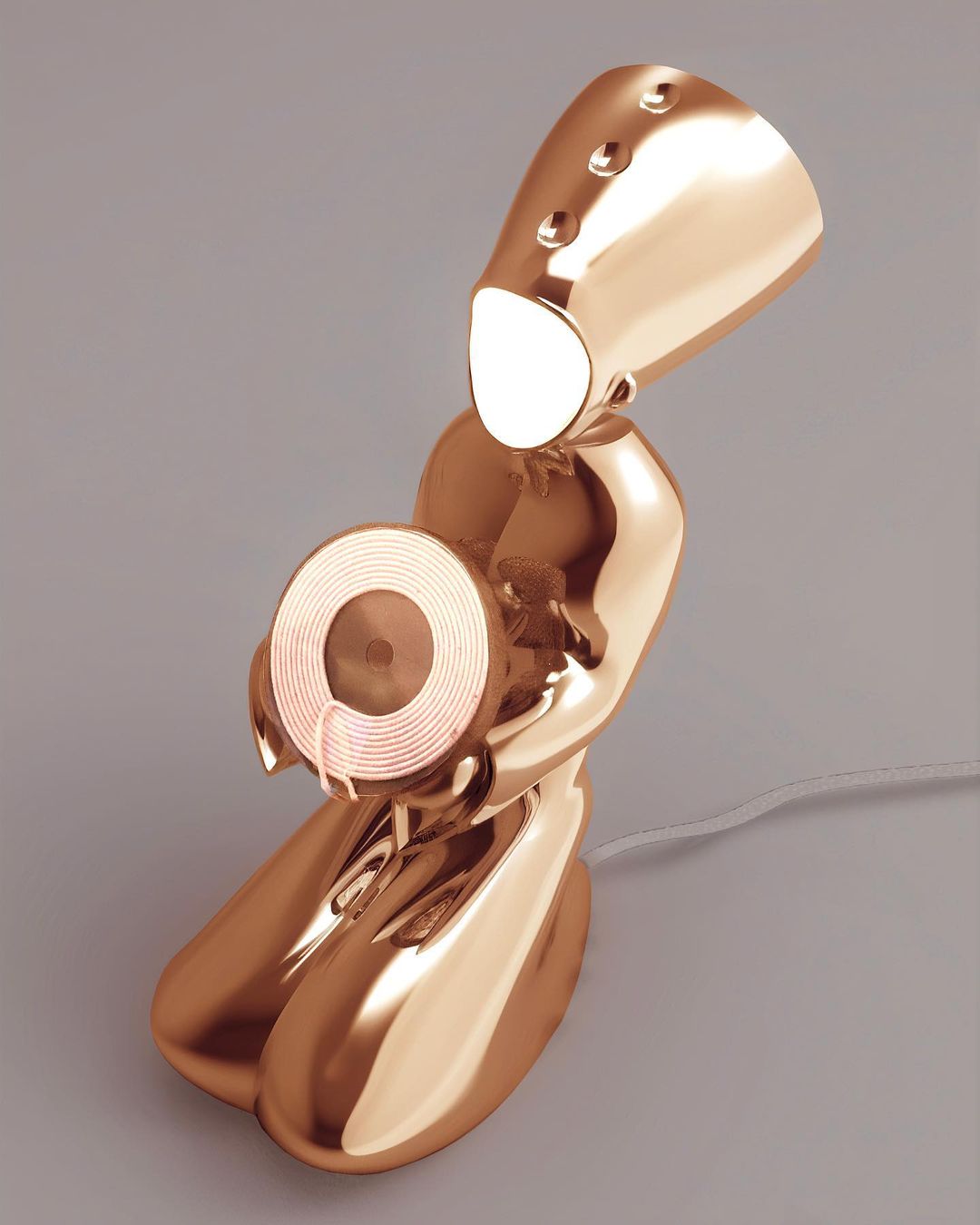 ---
_
I thought it would be interesting to see something so traditional in form distorted in such a modern way.
---
_
Carefully shaped polished stainless steel legs designed to reflect the carpet in such a way this stool seems to hover!
---
_
Sulis Cloud Sofa imagined for a Royal Crescent Residence in the historic town of Bath
Named after Sulis, deity of the ancient Roman spa located over a steamy thermal spring outlet in the UK. Support structure hidden under the blanket.
---
_
I had an idea a while back gazing over the rooftops. How could this ubiquitous material be brought into the home in a beautiful and functional way?
The end result of various explorations was this table. It seemed only fitting to illume it from within, so the light would carry the warm colour of the terracotta around the room.
---
_
I really love the idea something as damaging as a Power Station can be home to nature. In this design, the chimney stores and slowly distributes water to plants so you don't need to worry about them drying out.
---
_
When arranged, they form a table centrepiece perfect as an artistic statement in any trendy Australian apartment!
---
_
We've always been disappointed by 'reading lamps' as the single light source always casts such distracting shadows. Suspension Lamp solves this by using a LED strip in suspension directly over where the light is needed.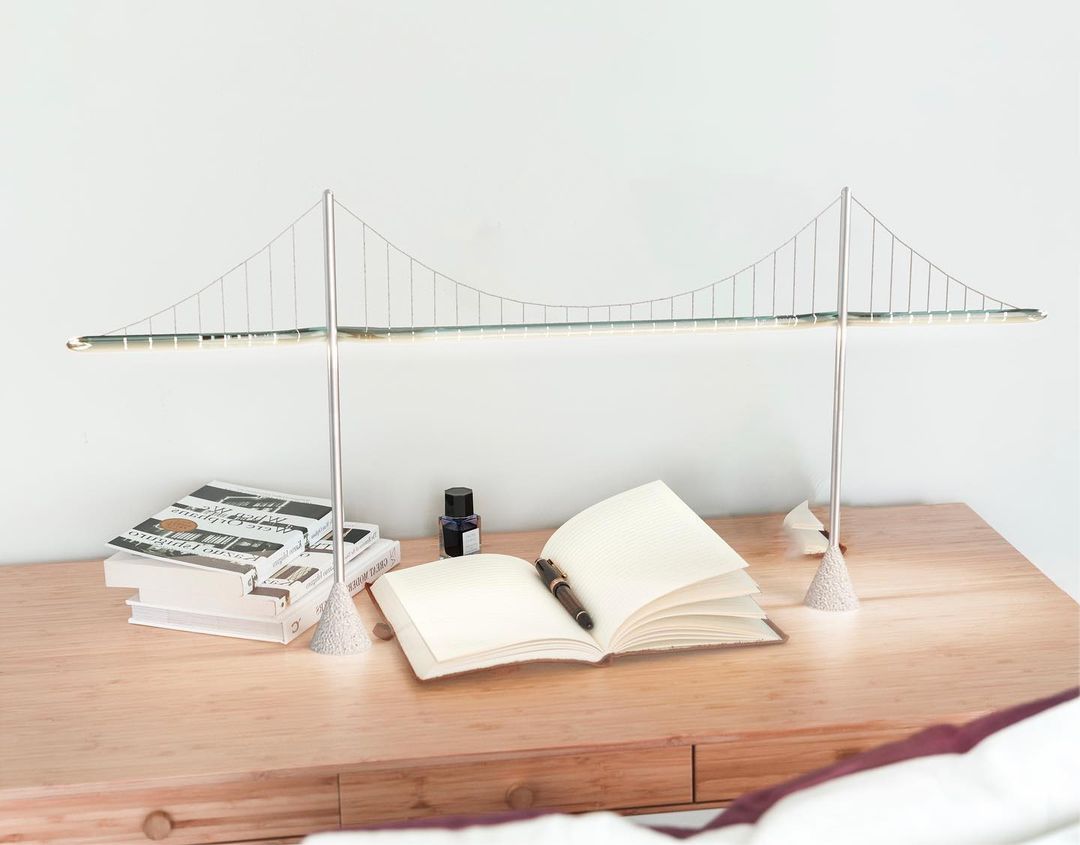 ---
_
Kiln Vase is part of our Kiln Ceramics series, paying tribute to the decaying pottery industry near Mitchells hometown.
---
_
Through appreciating forms and emotions associated with our youth, we might rediscover some of that wide-eyed curiosity and wonder in the world. The term 'Mardy' in English is used to describe a sullen or pouting child.
---
_
In ancient Egypt, goddess Hathor was considered to be the personification of joy, love and sexuality. In keeping with this theme, these sculptural luminaires intend to illume a space that may yield such moments.
---
_
Working on a Chaise Lounge concept inspired by Mid-Century modern aesthetics. Intended purely as a exploration as form.
---
_
Capturing the passion and warmth of pottery production in a beautiful lamp for the home.
---
_
I was looking at a Power Station on my way to work on a beautiful morning and thought the scene was too picturesque with the sun backlit clouds coming out of the chimney. In my daydream I saw the cloud wilt, personifying the damage these cathedrals of power do the environment. As the cloud was illuminated, it seemed logical to name the product 'Light Pollution lamp' to humour the audience and bring attention to the multitude of pollution problems we bestow on the world.
---
_
The perfect way to add a hint of stylish fun to your dining room


---
_
Fruit of the Ficus Carica tree form in an usually way. At first they grow upwards seeming to defy gravity. As their size increases, their tone becomes a rich purple and the increased weight causes the supporting branch to flop. Inspired by the aesthetics of this process, Mitchell produced the Fig Lamp.


---
_
Wattholm Floor Lamp by MarkMitchellDesign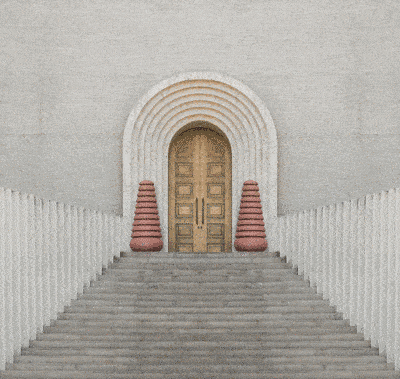 ---
_
Wattholm Table lamp is produced by 3D printing with renewablecthermoplastic filament derived of plant starch. A defining feature of this lamp is that it's made to order in the country of purchase using 3D hub's decentralised manufacturing facilities to reduce emissions from transportation.
---
_
Cheers Lamp by MarkMitchellDesign
---
Wattholm bowls created for KOI in London. Known for high quality ingredients and beautiful presentation, it seemed only fitting to have a custom ramen bowl produced to present food better at their establishments.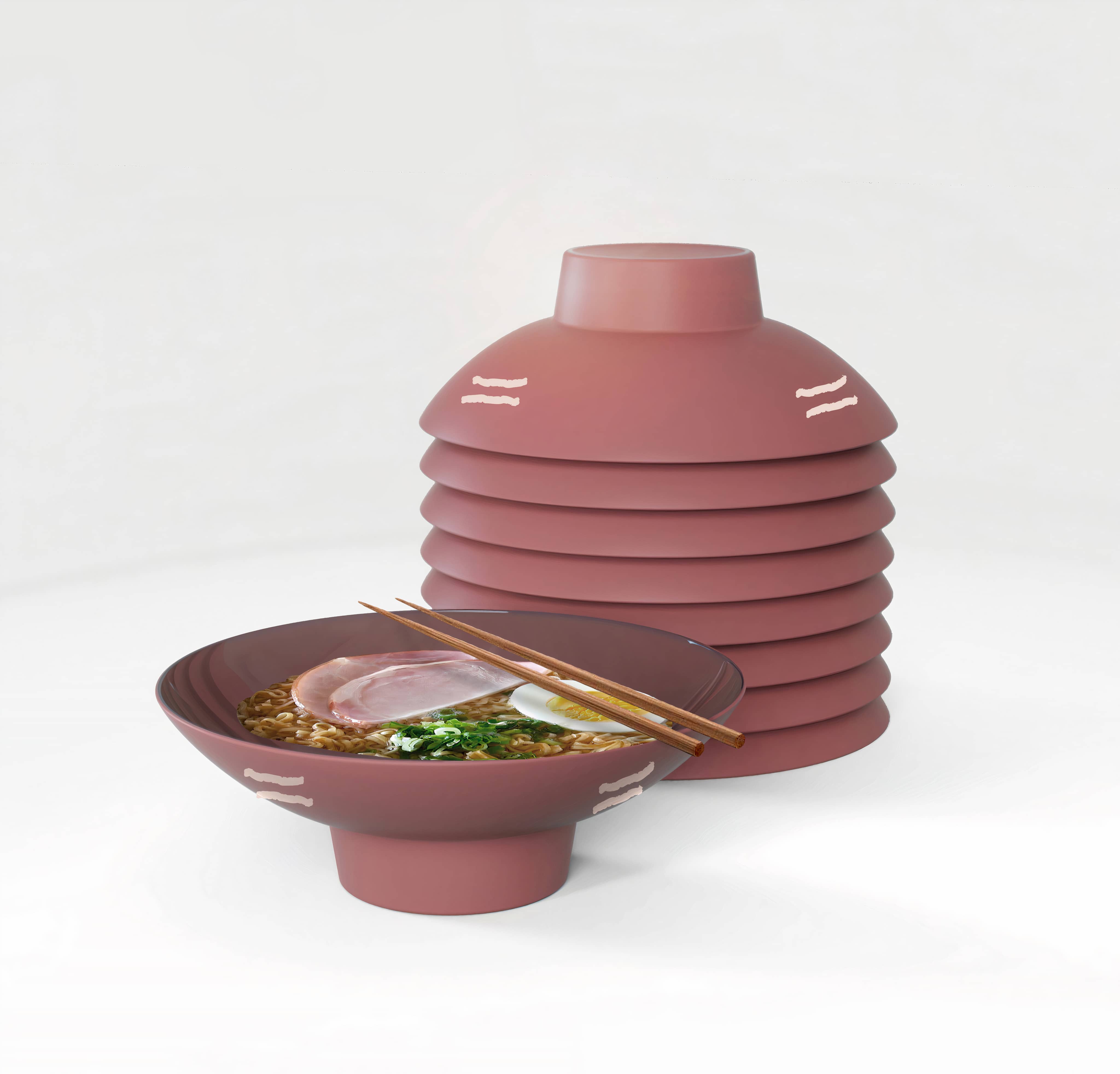 ---
---
ArchicHome approached Mitchell to create an artistic tissue dispenser for the home. The resulting product, shaped like a Power Station, intends to bring attention to the successes and failures of 20th century human society.
READ MORE
---
Inspired by the vintage gasometers seen around London, Mitchell created this meeting chair for British furniture supplier Lauri.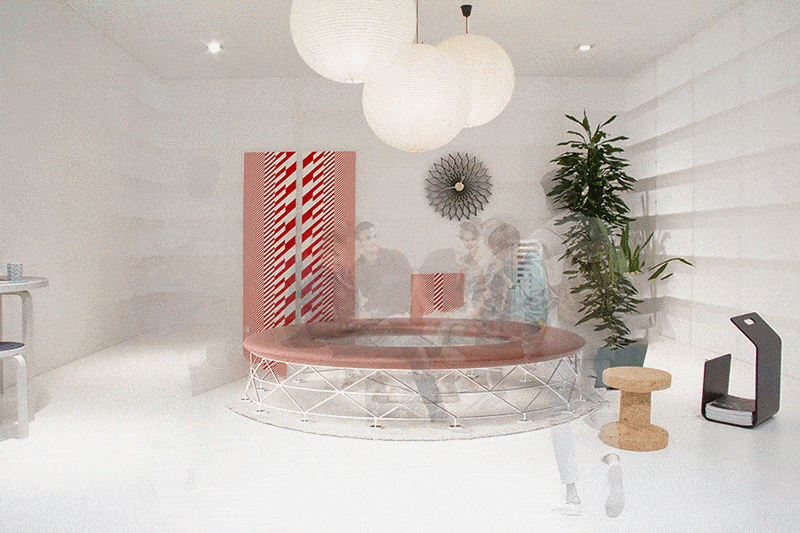 READ MORE
---