With the invention of the steam train in 1802, we saw an development of beautiful architectural departure points like the awe-inspiring St Pancras Station and attached London Renaissance Hotel.
In the Golden Age of train travel, visiting a new place was considered a major event. Grandiose structures served to facilitate and heighten the importance of travel, an aspect which is all but lost in today's trend of Zaha-esque shopping mall airports. Passengers these days are greeted by warped and twisted estranged facades which alienate rather than elevate.
With his new spaceport facility, Mitchell looks to consolidate the same atmosphere of elegance that defined early explorers like Amy Johnston or Howard Hughes.
A long driveway leads to the spaceport emerging like the white cliffs of Dover from the British countryside. The Georgian aesthetic is inspired by the beautiful Royal Crescent in the city of Bath, as seen in Bridgerton. Meanwhile the large arched entrance may remind viewers of London's iconic Regent Street Apple Store.
Space tourism is an enlightening experience and the journey can act as a great source of positive change in people's day to day lives.
To ensure compliance with The Paris Agreement, Spaceflight providers must always carbon offset all their launches and activities. Meanwhile Spaceport Hotel UK is powered by offshore wind driving heat pumps and water reclaimation facilities. A portion of the proceeds goes towards charities providing Aerospace Engineering courses for underprivilaged communities to increase inclusivity and diversity in the industry.
Seeing Earth from above inspires greater respect for our environment and ecosystem, as well as an increased sense of unity to people of all nations, genders, ages and ethnicities. Astronauts often refer to this as 'The Overview Effect'.
The civilian space travel industry is growing rapidly with a current compound annual growth rate of around 37.1% enabled by reusable launch vehicles. The market is expected to reach £7.9 billion with 41,000 passengers having flown before the end of the decade.
However Space Tourists receive limited training meaning anxiety and stress can often overshadow the days before launch. Astronauts on the other hand spend decades physically and mentally preparing for the journey.
During the lead up to launch day, travellers at Spaceport Hotel UK are encouraged to relax and ground themselves.
Beautifully designed bedrooms, meditation rooms, lounges, gardens and a spa help to cultivate the optimal physical conditions and state of mind in preparation for your once in a lifetime moment.
The property contains 4 bedrooms on each side for a total of 8 rooms. Each wing is identical with the intention that travellers can quarantine independently for 3-14 days from other launches. Space tourist vehicles typically seat 4 people at a time, meaning the facility can provide support for 60 guests across 15 launches per month. Or 16 guests on 4 trips to the ISS (due to the longer quarantine period).
From the outside, the building seems cut open with a large glass curtain wall, blending traditional craftsmanship with daring modernism. Designed entirely by Mitchell, the interiors carry his characteristic sense of romance, poetry and wanderlust.
Iconic works such as
Orrery Chandelier
and his floating
Suspended Sofa
punctuate a large yet cosy hangar-esque window lounge for passengers to meet and socalise.
Illumed in Baker-Miller pink and purple hues, this room is crafted to relax and enchant.
A well equipped spa resides on the bottom level of the facility providing treatments ranging from full-body mud masks to hot stone massages. The space is bathed in tones of Marrs Green, voted 'The World's Favourite Colour' in a major global survey by British paper merchant G . F Smith.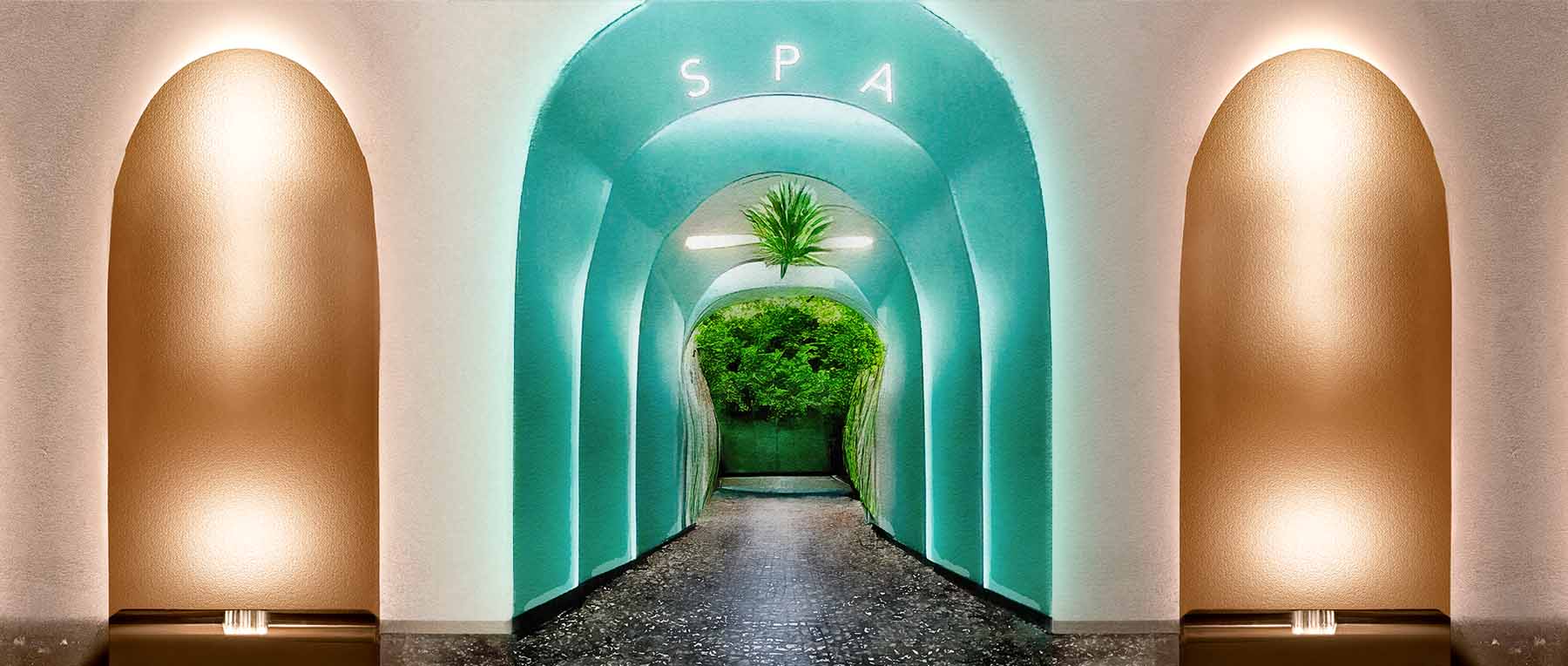 The bedrooms are a slice of heaven and a private sanctuary for each guest. Each features a themetic entrance ranging from natural wheat grass to arches.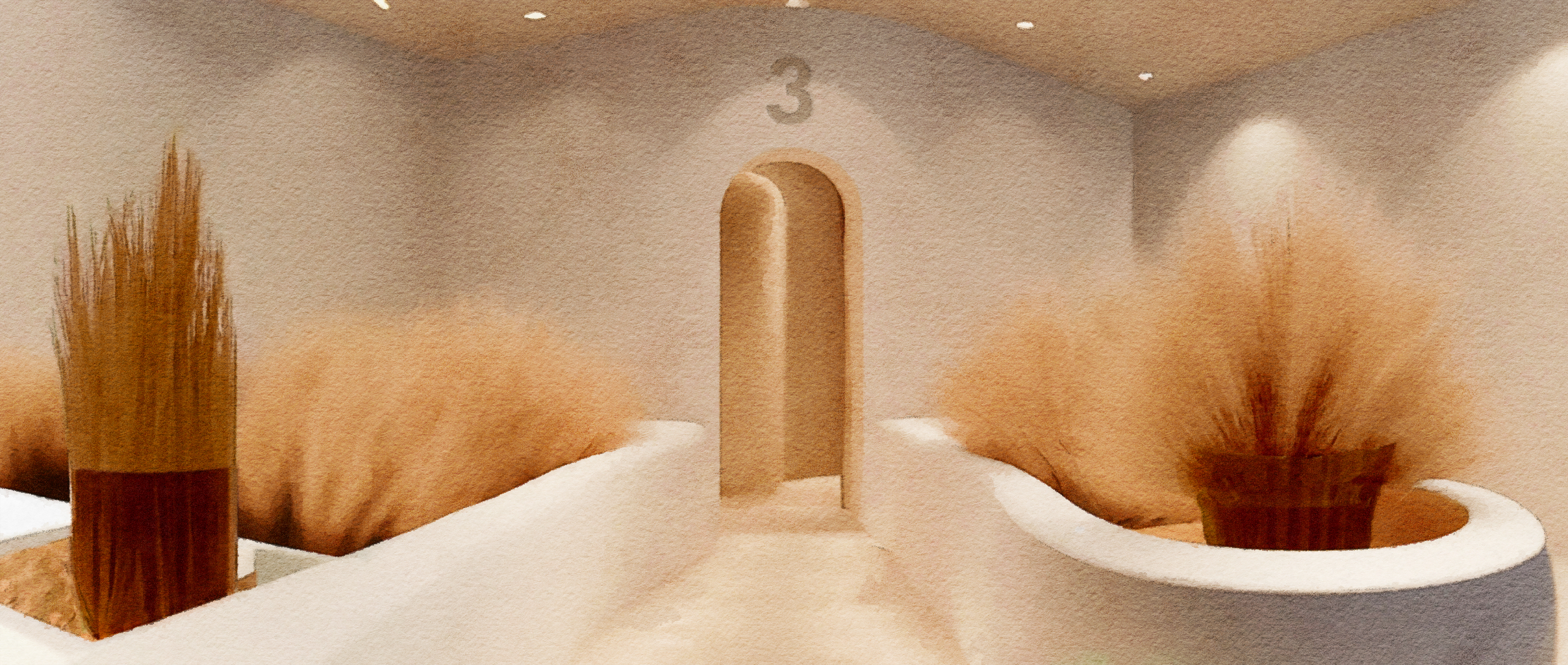 Each bedroom has a lobby for removing shoes and jackets. A small staircase leads up to a private lounge, bedroom and shower.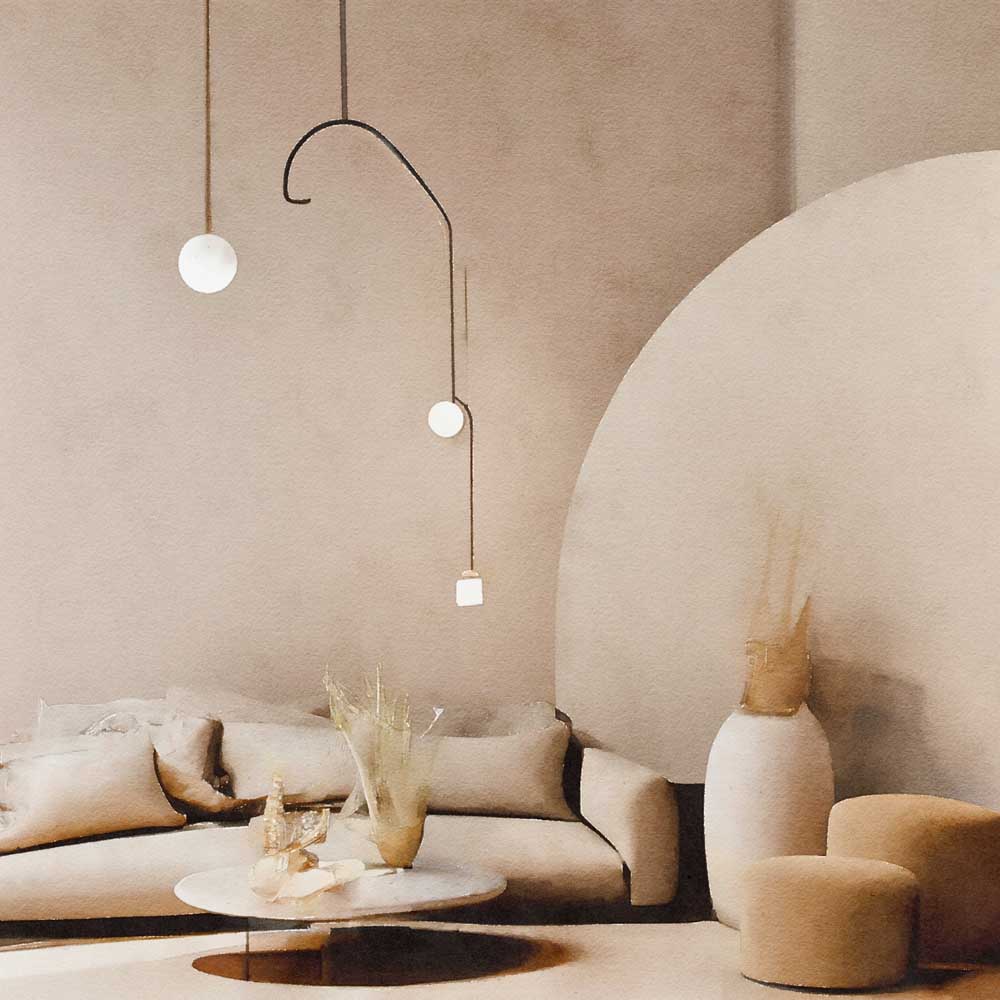 Prior to launch, guests check-in and change into flightwear. The fitting room is decorated with traditional vintage spacesuits contrasting old with new.
Modern flightwear consists of seasonal Haute Couture outfits to provide comfort, decency and style to passengers while in microgravity. These outfits designed by Mitchell specifically lack buttons or zippers to avoid damaging hardware such as leather seats or glass windows.
Unlike jumpsuits, these outfits provide a more personalised experience to passengers. The casual fit was chosen to help enhance the unique sensory effects of fabric against skin while in zero gravity.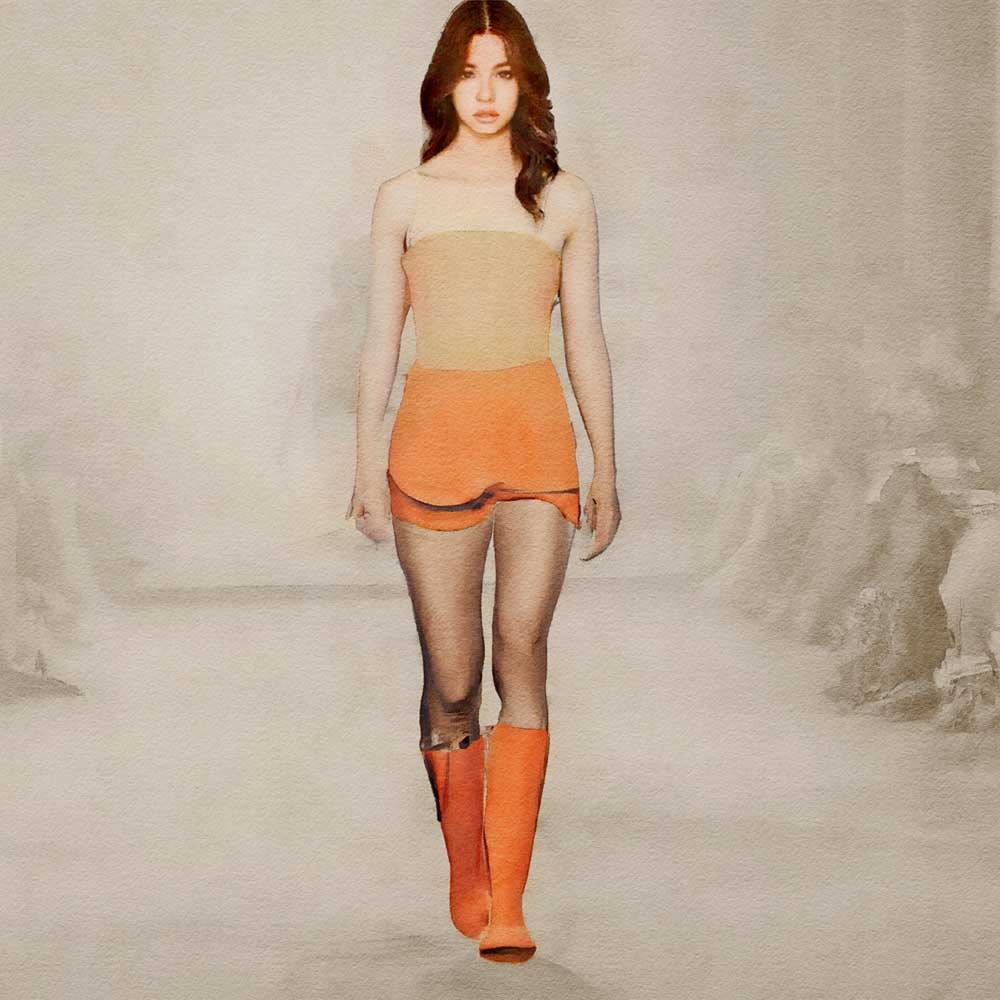 Two launchpads service the hotel. They are located approximately 15 miles away in the surrounding British Moorlands. Space Tourists are transported to the launch vehicles in comfort via a fleet of black Bentleys
*
.
Space Tourists have a range of orbit profiles to choose from and commercial stations to dock with. Low Earth orbit (LEO) is popular with fans of sunrises and sunsets given they can witness up to 6 during a single 8h flight. Geostationary Orbit (GEO) is perfect for travelers looking for a more relaxing experience by matching the rotation of the Earth. In GEO, telescopes are provided so passengers can visually traverse their favourite continent or country like never before.
Sun-Synchronous Orbits (SSO) prove very popular with couples taking romantic trips. The perpetual sparkle of city lights provides the perfect backdrop to pop the question or celebrate an anniversary. Weddings can also occur in space via a video connection to a Priest, Rabbi, Imam or Pujari - with friends and family watching on a big screen at the landing site.
For more adventurous travellers, a Highly Elliptical Orbit (HEO) provides the chance to go further out than most tourists dare to venture. Well beyond the comfort of space stations, this route requires the heart of an explorer and the desire to push the boundaries. Seeing the planet from so far away allows visitors to appreciate the fragility and importance of our Blue Marble in a seemingly endless void of space.
After the journey, guests are welcome to keep the limited edition flightware as a souvenir. Details of your trip are sewn inside the clothes upon landing to commemorate your time in space.
*Disclaimer : All imagery is purely conceptual and intended as a non-commercial research project to explore the future of the Space Tourism industry. This work may be redistributed without modification only with attribution for the purposes of press and publication. If you wish to learn more or obtain HD imagery, please contact our team at 'contact@ markmitchelldesign.com'